THE ART OF SELF-INQUIRY
A Meditation Retreat with Dr. Bhagwan Awatramani
MEDITATION RETREAT — NEW DATES FOR 2020 TO BE ANNOUNCED SOON!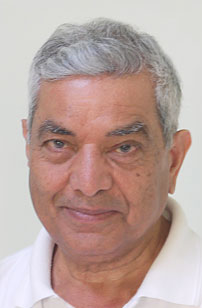 Can you learn to be yourself? Can you be just as you are without image, without idea or without trying to impress? Can you live without trying to live up to some ideal? Can you be yourself? Being yourself, as you are, is the heart. The idea of yourself is in the mind. If you can be yourself - that would take you to the heart.
Note: Call or email the Center to pre-register.
Weekend Seminar
This price includes the Friday evening Introduction to Teachings in Silence and the Saturday and Sunday meditations. The weekend silent meditations are held from 10:00 am - 3:00 pm each day in five 50-minute sessions with 10-minute breaks and a 20-minute lunch break.
Morning Meditations
Each of the weekday mornings that Dr. Awatramani is here, there is a one hour meditation from 6:00 - 7:00 am. This is a silent meditation. Dates for morning meditation vary with Dr. Awatramani's travel schedule and are announced several weeks prior to his visit.
Wednesday Evening Q & A
The Q & A evening has become very popular. This is an opportunity for anyone to ask questions directly to Dr. Awatramani. No previous experience with this style of meditation is necessary, and all types of questions are welcomed.
Thursday Evening Introduction
This evening takes place at Still Point Yoga Center in Laurel Springs. It includes a one hour meditation, followed by guidance from Dr. Awatramani.
Friday Evening Introduction to Teachings In Silence
This is the beginning of the weekend retreat. There is an hour of silent meditation, followed by guidance from Dr. Awatramani. You may come to this evening by itself or in conjunction with other events. It is included in the price of the Weekend Seminar.
Private Sessions with Dr. Awatramani
Private half-hour and one-hour sessions provide you with an opportunity to receive personal guidance on topics of your choice.
| DESCRIPTION | COST |
| --- | --- |
| Weekend Seminar Only | $275 |
| Morning Meditations Only | $40 each |
| Wednesday Evening Q&A Session | $30 |
| Thursday Evening Introduction | $30 |
| Friday Evening | $50 |
| Private Sessions | $120 per hour |
DAY
TIME
DESCRIPTION
WEDNESDAY, DECEMBER 11, 2019
7:45 p.m.
Q & A Session —
Yoga Center of Haddonfield
FRIDAY, DECEMBER 13, 2019
7:30 p.m. - 9:30 p.m.
Introduction to Teachings in Silence
SATURDAY, DECEMBER 14, 2019
10:00 a.m. - 3:00 p.m.
Weekend Seminar
SUNDAY, DECEMBER 15, 2019
10:00 a.m. - 3:00 p.m.
Weekend Seminar
MORNING MEDITATIONS —
DECEMBER 10, 11, 12, 13, 16 2019
6:00 a.m - 7:00 a.m.
Sitting In Silence